Our Adventure in Ireland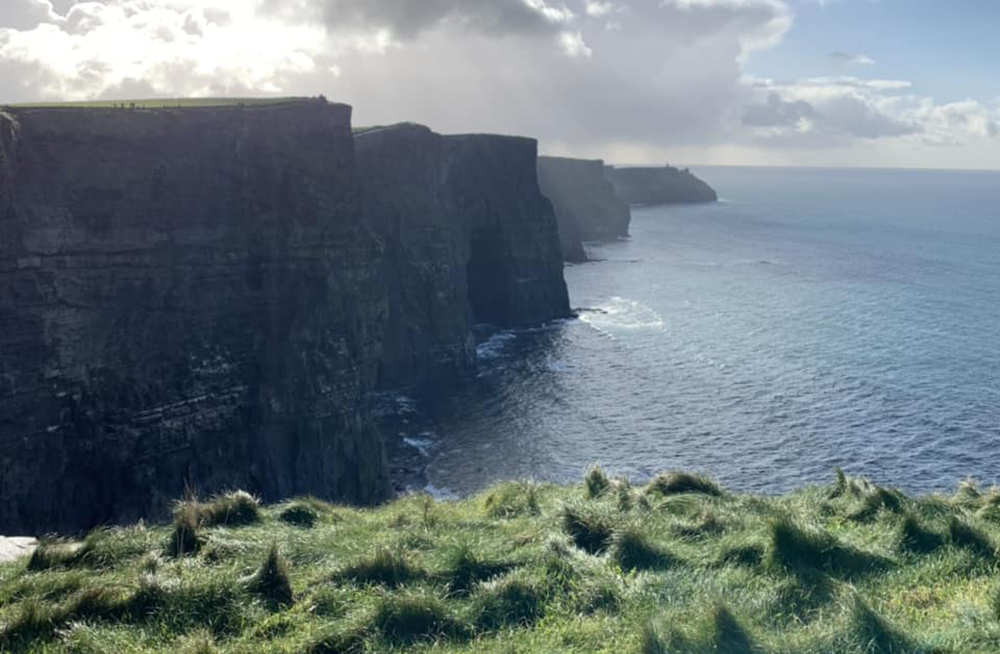 Our group trip to Ireland was fantastic! Having 41 people attend, meant we had the luxury of our own motor coach and our own private guide the entire time! Our group consisted of people from: Quincy, Chicago, Hannibal, Chesterfield, St. Louis, Fort Madison, Payson, Staunton, Gladstone, Harrisburg, Maryville, and Roseau, Minnesota. We came together in Charlotte, North Carolina, some flying out of different initial airports, but most of us coming in through St. Louis. We had a smooth, six hour flight to Dublin and arrived at 6:30am a bit tired but excited to start our adventure!
We had the chance to take part in guided tours, spend free time wandering cities and towns we've read about and always dreamed of visiting. Our trip started in Dublin where we stayed the night the first two nights. We had a lot of free time while here. Some of the activities our group took part in were: the Guinness brewery tour, Jameson whiskey tour, walking O'Connell Street, wandering around Temple Bar, golfing the Howth Golf Course, and visiting museums. As a group we enjoyed a traditional Irish dinner followed by a lesson in Irish music and dancing. We found our love for the song Wild Rover! We literally laughed and clapped the next nine days when this song came on the radio or was played live in a pub or on the streets. We also got to tour St. Patrick's Cathedral and visit Phoenix Park where Pope John Paul II came in 1979 to speak to over 1.2 million people.
We learned that we are wary of seeing John, our bus driver, turn onto the WRONG side of the street…which happens to be the correct side! It took some getting used to for sure! And the lines on the street are opposite from home – dotted lines mark the edge of the street and solid lines mark the center of the street.
Throughout the trip we had a chance to attend mass three times. Father Chris Comerford, Blessed Sacrament in Quincy, was in attendance on the trip and had arrangements to concelebrate mass twice (St. Mary's Pro-Cathedral in Dublin and and St. Augustine in Limerick) and lead mass (St. Mary's Cathedral in Killarney). Seeing the inside of the churches was amazing, but attending and participating was that much sweeter of an experience, and we are thankful to Father for the opportunity to participate a half a world from home in something most of us do weekly. Having this routine while on vacation isn't usual, so it was comforting to be able to do so.
We left Dublin on day three and drove to Kilkenny to have a few hours of free time walking the quaint town, home to Kilkenny Castle. Some of us toured the castle while others toured the historic town. We then drove to Waterford and enjoyed a quick walking tour of the small town before splitting up into two groups to visit the Medieval Museum and Waterford Crystal factory. WOW! The Waterford factory tour was amazing! Ninety percent of the crystal made is made by hand – astounding! Fun fact, Waterford makes the crystals that make up the ball that drops on New Years Eve in Times Square in New York City. There are 2,268 of the triangular crystals on the ball, and 280 pieces are remade each year in a new design. All the pieces are hand carved.
We woke up in Waterford the next morning after having learned how to make a proper Irish coffee the night before; thankfully the coffee was decaffeinated since we enjoyed them before bed! A proper Irish coffee is made with a tablespoon of instant coffee, a shot of Jameson whiskey, two tablespoons of raw/brown sugar, water, and whipped cream (not the kind from a can – homemade whipped cream).
We traveled to Blarney to see Blarney Castle and to kiss the Blarney Stone. We are proud to announce that half of our group has been blessed with the gift of eloquence after kissing the stone! That afternoon we drove to Killarney to Lough Leane, near Ross Castle, to take a boat ride. The afternoon ended up beautiful after a pretty cool and cloudy morning. We stopped on an island with ruins of a monastery. The island was quiet, had deer wandering around unaffected by us walking just a few feet from them, and had the clearest water splashing up on the shores.
The next day was the most time we spent in the motor coach. We traveled the 110 miles to see the Ring of Kerry. We stopped so much along the way, which made it a full day's event. The Ring of Kerry is the round trip, circular drive around the Iveragh Peninsula on Ireland's western coast. The views were gorgeous and EXACTLY what you would picture Ireland looking like! While along the "ring" we enjoyed beaches, farms, a sheepdog demonstration, a sheep shearing demonstration, mountains, Killarney National Park, goats and horses, Irish coffees, Irish stew, and a bog museum to see the different kinds of traditional Irish homes from the 19th century.
During a sheep dog demonstration, we found out there are more sheep in Ireland than people, and that a sheep dog (border collies) can hear their owner's commands from half a mile away! The backdrop to our demonstration was the beautiful countryside sprinkled with mountains in the distance. The country of Ireland is famous for the wool it produces, but most of the wool is exported to the United Kingdom for cleaning and distribution.
We had jaunting cars (horse drawn carriages) waiting for us after breakfast in Killarney. We enjoyed a long ride through Killarney National Park. The carriage dropped us off at St. Mary's Cathedral for mass, then we were off to Adare for lunch and shopping! A few hours in Adare warmed us up (via Irish coffee…again) and then we were on our way to Limerick.
Today…wow! Today we got to visit Connemara Marble, which has some of the prettiest green marble in the world! We left Connemara for the Cliffs of Moher. The cliffs are a sight to be seen! When we arrived to the cliffs it was a bit cold and rainy. We waited a few minutes and the sun came out for a gorgeous view! Our pictures from the cliffs range in overcast, sunny, and rainy. Our pictures look like we took them on different days when, in fact, it was the range of weather over just an hour's time. The cliffs sit at over 700 feet above the water and make for such pretty views. Some of us even paid to go up into O'Brien's Tower to see the cliffs from a higher vantage point.
We left the cliffs with cold noses and fingers to drive to Galway for the afternoon. When we left Galway we did a side trip, thanks to the special planning of Lori and Father Chris. We went to Doonbeg for dinner and then enjoyed live family-style Irish musicianship and dancing at a local pub, Comerford. This was the perfect ending to such a long, wonderful day.
We left Limerick to enjoy a whiskey! Yes, whisky in the morning…we're in Ireland after all! We visited Tullamore Whiskey, drank some samples, then enjoyed lunch on their property before heading to Kingscourt.
In Kingscourt, we enjoyed the Cabra Castle. We actually stayed the night in a castle! Our last dinner together on the trip was enjoyed in a private room inside the castle. By this time, we had all gotten to know one another, and it was bittersweet knowing the next morning we were leaving Ireland.
The next day was long, but with everyone thinking about getting home, hugging loved ones, and sleeping in their own beds it did go by quickly. The flight back was a little longer than the one coming. We flew Dublin to Philadelphia in seven and a half hours.
Ireland is GREEN! The Irish are very friendly. The food is hearty and often. We learned SO MUCH history of the country, and our guide, Jackie, and our bus driver did a great job keeping us on schedule and safe. We saw the iconic limestone walls along the western side of the country. Little did we know, the walls are not made with mortar or concrete; the stones are just stacked onto one another to make a wall/fence. This was the most efficient way to get rid of the stones when the farmers needed to clear the way for cattle and fields. Also, driveways go right up in front of the houses – garages are few and far between. And most properties in small towns have short walls/barricades around them. Unless the property is right up next to the sidewalk, it has a small wall around it. AND palm trees are NATIVE to the southern part of Ireland! We DID NOT know that!
We didn't remember some of the Irish sayings that Jackie told us about, but we did catch on to "slainte", which means "health" and is used as a toast or "cheers".
We had fun learning about the food just as much as anything! Pudding means blood sausage, bacon is ham, all soups are pureed, and stew is soup that's not pureed. A butty is buttered bread with ketchup, salt, vinegar, chips (fries), and another piece of bread; but then you have to smash the whole thing before eating. Lamb, beef, stew, curry, and POTATOES are on all menus. I think our group was surprised to find that getting mashed potatoes on their plate did not mean that the boiled potatoes in the following course were to be missed! We had potatoes and bread at least 2-3 times each meal.
The laughs that were shared, and that are still being shared, by the 41 of us is what we find to be the best part of the trip.When we were told we could venture out and have a free afternoon or evening to ourselves we found we often would gravitate together in small groups and formed new friendships with people we didn't even know ten days prior.
We came to Ireland to see the country, and we left with photos of Ireland and new friends that live just a few miles away! We had a good craic! (We found out "craic" is pronounced "crack" and is used to say you had fun…we thought this was funny the first few times we heard the phrase.)