Italy in August: hot, delicious, beautiful, and entertaining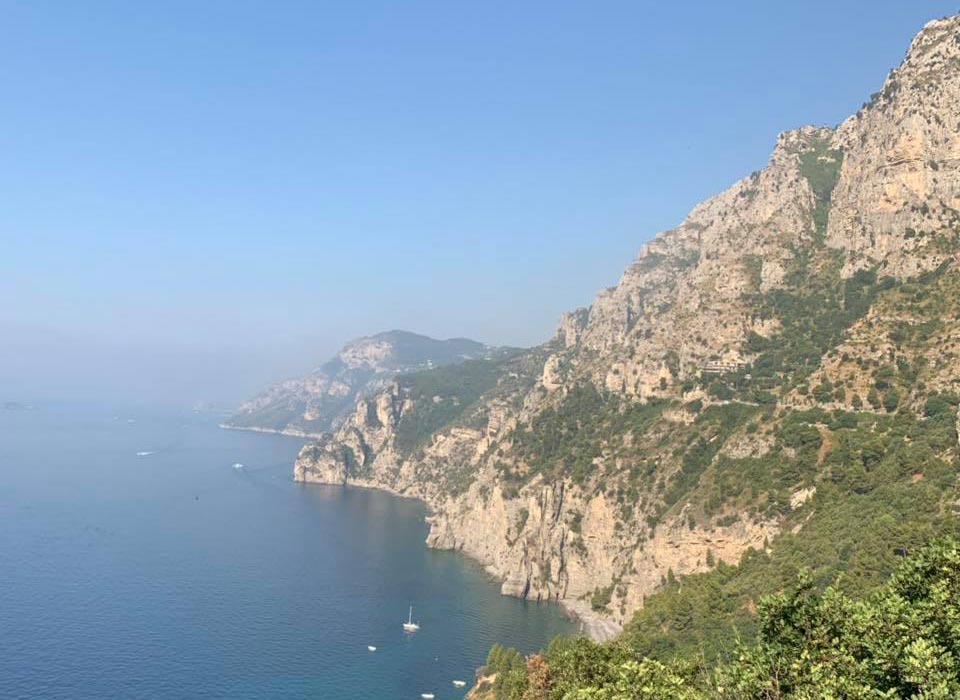 Our Travel Specialist, Kassie Casey, and I had the pleasure of escorting a group trip to Italy last month.  The group departed on August 9 with 21 people total. We had travelers coming from many different airports from all over the country.  We all flew into Rome and started our eight night Italian getaway together!
Most of the group traveled to Naples to stay two nights prior to our official tour beginning.  We explored Positano, Sorrento, and Pompeii on a warm, beautiful day excursion.  We enjoyed limoncello in Positano, lunch in Sorrento, and a tour of the ruins of Pompeii in the afternoon.  Our group enjoyed aperol spritzers, pastries, gelato, pasta, traditional margherita pizza, and coffee on a daily basis – literally all these things daily!  Our waistbands definitely stretched!
The Amalfi Coast is one of the areas that most of our clients decided they would love to visit again one day.  With only one road running through Positano it made it seem very quaint, inviting, and calm.  The lemon trees lining the streets were very surprising!  The lemons weren't your average lemons either – most of them were 3 to 4 times the size of the average ones we're used to seeing here at home!
After spending two nights in Naples, we took the train back to Rome for two more nights.  Once in Rome, we met our full group of 48 people.  Most everyone was from the United States, Canada, Australia, or New Zealand. We had a fun group of adults that liked to have a good time and socialize. So with a group of 48 people, 21 of us were with Destination Travel.  Our tour guide that travelled with us to each destination and helped arrange all the excursions name was Francesca.
Our first full day in Rome was spent going to Vatican City.  We went through the Vatican Museum, the Sistine Chapel, St. Peter's Basilica, and walked St. Peter's Square.  Wow!  The museum and chapel were amazing!  The pieces of art are so fascinating.  Many times, you would think you were looking at a three-dimensional image, but in fact you were looking at a painting or a flat ceiling.  After realizing, you felt the need to step back, examine, and then came the "wow" factor.  We saw many clients take this step back followed by the intake of breath when they realized what they were looking toward.  It was nice seeing others experience this for the first time.
Later that same day our group enjoyed an outdoor tour of the Colosseum, the Trevi Fountain, the Spanish Stairs and Piazza de Popolo.  We had many clients throw their coin(s) into the fountain!  If you throw one coin in, you're sure to come back to Rome one day, two coins and you'll meet an Italian lover, and three coins into the fountain and you're sure to meet the love of your life and get married. We had many clients throwing many different coins in the fountain!  Hahaha  This day was also HOT in Rome, so we had many clients partake of gelato…many times in one day…guilt free…. without judgement!
After leaving Rome we did a side trip to Pisa to visit the Leaning Tower of Pisa.  Then, we ended the day in Florence for two nights.  While in Florence, we visited a genuine Italian leather store and got to watch a leather demonstration.  After spending too much money at the leather shop, we enjoyed a walking tour of the city center of Florence.  The beautiful churches, towers, and shops were idyllic. We finished our second night in Florence poolside with a three-course dinner.
We were off to Venice the next day!  We did make a day trip to Verona.  Oh, Verona!  Almost all of our clients admit that Verona was their favorite stop the whole trip.  Our afternoon there was the best afternoon of the trip!  We walked through the town for hours.  The city center of Verona is gorgeous and bustling.  We could have easily stayed for a week and just roamed around and ate delicious Italian food for days on end.  After leaving Verona we made our way to Venice.
We stayed in Mira, just a few miles from Venice.  Most of the group enjoyed an evening in Venice, walking through St. Mark's Square, and enjoyed a five-course dinner. Venice at nighttime is breathtaking!  We came back to Venice the next morning to enjoy a glass blowing demonstration.  Venetian glass is beautiful!
That afternoon we had scheduled gondola rides starting in the Grand Canal and going through the smaller canals throughout Venice.  After the gondola ride, we had clients go on a boat ride to Burano, one of the islands of Venice. We enjoyed a few hours of walking the island, watching handmade lace get made, and took pictures of the multicolored dwellings on the island.
Our very last night of the trip we had a good-bye dinner at our hotel.  We enjoyed saying good-bye to our tour guide, taking group pictures, and enjoying drinks on the hotel's front patio.  There was a DJ, so we had fun dancing the night away under the stars.
Italy was no joke a trip for the books!  It was warmer than we would have wished for, but in the end it was something that we animatedly bonded over.  Learning how to order a sfogliatella napolitana, enjoying one of our group members thinking limoncello was "lemon jello", and learning that buffalo cheese is a key ingredient in a REAL margherita pizza are all things we'll remember for years to come.