Why I Love Group Trips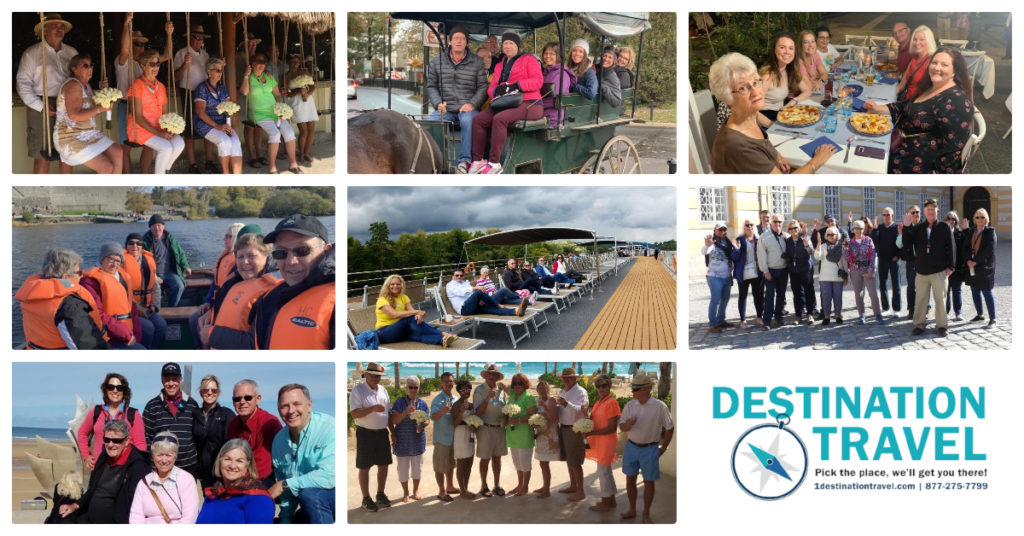 I vowed after my very first group trip that I would continue to travel this way because the experience and ease was just so good. Destination Travel makes group trips even better by ensuring the details are worked out and special.
I've gone on four group trips with Destination Travel and loved every single one of them! It's ranged from a 16 day Highlights of Europe tour and a four day vow renewal in Cancun that I escorted to ten days in Ireland with a group of 41 (all from Destination Travel) and our recent eight day trip in Italy.
Avoid the "Guessing Game"
What I love the most about group trips is that the guessing game is not in the picture. The tours are pre-planned and well organized. That means you know what to expect and can be confident that you'll hit the highlights of each place before leaving.
When going on a group trip, you're bound to see all the things you've dreamed of seeing for years. With the itinerary given to you in advance, it's easy to plan out your route to guarantee that you get to all the places you're wanting to see.
I travel often, and the hardest part of going to a new place is having to guess your way around an area.  Looking up venues, tours, restaurants, and city maps online ahead of time can take hours, days of planning, and most times headaches!  When you book a group trip you are guaranteed to not have to "guess" your way around a foreign country.
Your itinerary is designed to maximize your travel experience from the day you reserve your trip.  You know what's included, when your free time in each area will be, how long your drive will be from town to town, and what meals are included.
All of the built-in tours that are included in the overall price of the trip are listed in advance. This makes budgeting much easier.
After reserving your spot on a group trip, you can even book extra excursions in addition to the built-in tours.  Destination Travel is great about only offering tours that don't ever overlap, so when given choices of side trips, tours, or excursions you know that you can book every single one and maintain the timeframe that your overall itinerary has mapped out.
Some people like more free time than others.  You will always have an included tour at each destination and then there will be others to choose from if you'd like to be escorted more.
I love skipping long lines!
When taking tours, groups often get to pass the long lines of individuals waiting to get in. Our group trips have pre-booked activities with local tour guides so we get priority entry to many attractions.
On every single group trip I've ever been on I make at least 2 or 3 new friends. I've kept in contact with so many people I've met over the years from traveling. We exchange emails, phone numbers, and become friends on social media. To this day, I can say that each group trip has given me a new friendship somewhere throughout the world. I love talking to new people, comparing cultures, and getting to do daily fun and adventures with a new group of people.
I am an on-the-move kind of vacationer. Unless it's stated otherwise before booking the trip, I like to pack the schedule full of new sites, excursions, games, concerts, whatever I can find in the area!
When you fly ten hours to Europe and have all of these places you'd like to visit, you want to fit in as much as possible. Because, let's be honest, we don't all know if we'll ever be there again. Let's see all the highlights and not regret skipping something.
If I want a super chill vacation, all-inclusive style, I make sure to mention it ahead of time.  If it's not deemed "chill" then it's going to be packed full!  I love this about group trips too.
More Than One Kind of Group Trip
I highly recommend a group trip if you've never gone on one.  It is truly an experience to be had in your lifetime.
Plus, there's more than one kind of group trip. The "fully escorted" trips that Destination Travel hosts each year have a tour director who takes care of the itinerary and most of the services.
You can also get a few friends together and we can book your small group into a bigger group – this is actually what we book more of anyway!
We get group trip itineraries each summer for the following year, so feel free to contact us to find the best group trip for your group!  We can book you as a single, or we can book your small group of friends, OR we can even book your whole family for a trip of a lifetime. The sky is literally the limit!
To get a quote for a group trip is so easy too, so don't hesitate to contact one of our travel specialists to get a free quote. We can always be reached at 217.223.8747 or you can contact us here.