Update: Quincy Brides-To-Be Win Honeymoon Trips!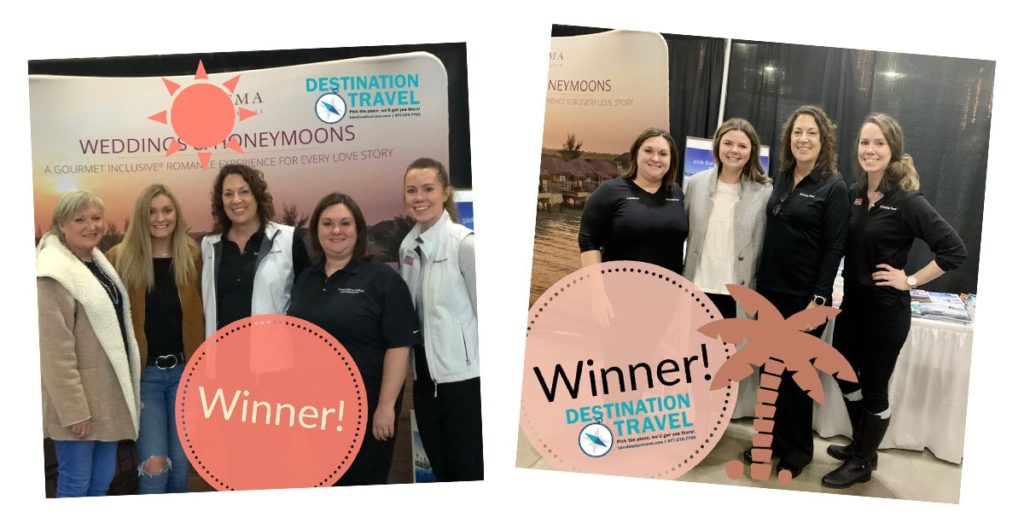 We loved attending the Bridal Expo hosted by Quincy Area Bridal Magazine! It's always energizing to meet couples that are in love and busy planning their special day. We were especially excited to give away TWO free honeymoon trips!
Honeymoons and destination weddings are some of the most fun and rewarding trips to help plan! Destination Travel gave away two free three night, all-inclusive honeymoon trips with flights included from St. Louis!
🥁 Drumroll please… the winners:
Saturday's winner was Sydney Armour! She and fiancé Zach Carstens will marry on 11/14/20 then travel to Hard Rock Cancun.
Sunday's winner was Raven Ash! She and fiancé Mason Scott will marry on 7/25/20 then travel to Planet Hollywood Costa Mujeres.
The bridal expo was a two day event this year, and we loved the space, and the extra time to meet with brides! There was even an afterparty at Atrium on Third! It was fun to mingle with brides and vendors alike at the after party. Also, this year QAB hosted a brunch at Atrium on Third (right across the street from the expo venue – OLC) and it was a HIT! With drinks, food, and entertainment provided we were also able to talk to everyone at brunch about travel, honeymoons, etc.  It was nice, intimate, and very cool to have that added face-to-face during such a hectic weekend.
Destination Travel staff bring over twenty years of experience to the planning process, so we can give you the ins-and-outs as well as the dos-and-don'ts for scheduling your upcoming trip and making it one to remember. Be sure to read our Easy Destination Wedding Planning Checklist and Timeline blog.
Click here to sign up for regular promotions, emails, deals, and specialty wedding/honeymoon offers the weekend of the expo and throughout 2020!
The range of travel locations is always fun! Each couple is unique. Often people think of the beach when they think of their honeymoon, but people also ask about Europe, Australia, Iceland, domestic trips, Disney, and cruises! You start dreaming and we'll start planning.
Get in touch today to start planning your honeymoon or destination wedding whether you have a dream location in mind or you need us to suggest a few ideas! You can reach us by sending us a message here or calling 877-275-7799 or 217-223-8747.