3 Lessons from a Quick, Beautiful Trip to Nashville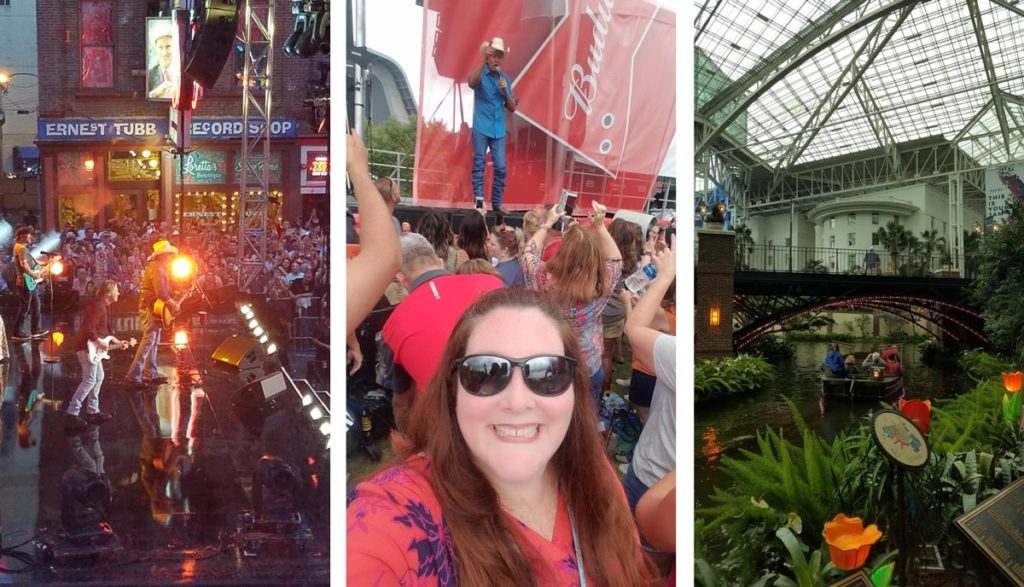 In June, I was fortunate enough to have fallen into a fabulous trip to Nashville, Tennessee, for the CMA Fest with only 36 hours notice. I had no time to plan. I had no concept of what we were walking into nor did I have any preconceived thoughts on what to expect. Let me tell you, it was awesome, and I cannot wait to go back again!
Lesson 1:
Think About How to Emphasize Your Priorities When Picking a Hotel
My husband, Marion, and I stayed at the Gaylord Opryland Resort, which is the largest resort in America and the largest resort in the world by land size. This place was HUGE! However, the staff was perfect and personable, the pools were nice, and the scenery was insanely unique.
There are beautiful atriums throughout the resort, each with a specific design. We were in the Cajun-themed Delta Atrium with a balcony that overlooked the enclosed atrium. A boat floated inside the atrium around the water like a river delta. To make it even more interesting, the water literally came from water sources all over the United States. The resort also has a huge waterpark, which is perfect for families.
Now, the CMA Fest was something to see! I loved it. If that's your priority, I would recommend staying downtown as opposed to staying outside of the city because there is so much walking to do and it is warm in Nashville during June.  This would let you have the nice option of going back to the hotel to cool off before heading back out.
Lesson 2:
Consider Locations Nearby
I love the Midwest! Sometimes, however, when I think "vacation" I only think of heading someplace with a beach. There are so many cool destinations in the Midwest or just a day-long drive away. Nashville is a great example of a nearby getaway. It's a fabulous vacation for a family to relax and enjoy the scenery and music in Nashville. The drive from Quincy to Nashville is just under 7 hours.
Lesson 3:
Free Music + Ticketed Shows = Happy Ears
Nashville does not charge cover in their bars, so you can see all the live music you want without paying a penny for the CMA Fest. But if you want to partake in the CMA Fest activities, I recommend getting the Xfinity tickets along with the Ascend theater tickets. The price is very reasonable for these events and then you are finished with the big shows by 8 p.m. so that you can go check out the live music at the bars downtown. Keep in mind that the music during the daytime and most of the venues are completely FREE to the public.
We saw so many amazing artists up close and personal – including Tanya Tucker, Shenandoah, Neal McCoy, Chris Young, Aaron Watson, Lauren Alaina, Jake Dodd, Uncle Kracker, Sister Hazel, Lorrie Morgan, Montgomery Gentry, Cort Carpenter, and so many more.
If you like the big stadium shows, CMA Fest has a great one for four nights in a row at the Nissan Stadium. Just remember to bring rain gear because this is an open-air stadium. We got to see Carrie Underwood with Joan Jett, Eric Church (my favorite performer with a full acoustic set that rocked thousands of people), Kane Brown, Kelsi Ballerini, Little Big Town, and Thomas Rhett. And that's only naming a few!
Last, but most definitely not least, we were able to see Charley Pride in the Grand Ole Opry at Mother Church. Between the church pews and the awesome acoustics, I almost shed a tear. It was very moving and having the older music in the original Grand Ole Opry made it truly special. If you get the chance to do this and you are a country music fan, DO IT. I promise you won't regret it!
Just Go
Where Do You Want to Go?
Nashville is a city you should definitely experience! Destination Travel would be happy to get you set up with a music trip of a lifetime, so give us a call at 217.223.8747 or send an email.
I can help you with any element of your trip. Need guidance on picking a destination? I've got ideas! Unsure when it's best to visit? I've got some insider knowledge! You just need to get in contact. Send me an email about your dream vacation.