What Holiday Travel was like in 2020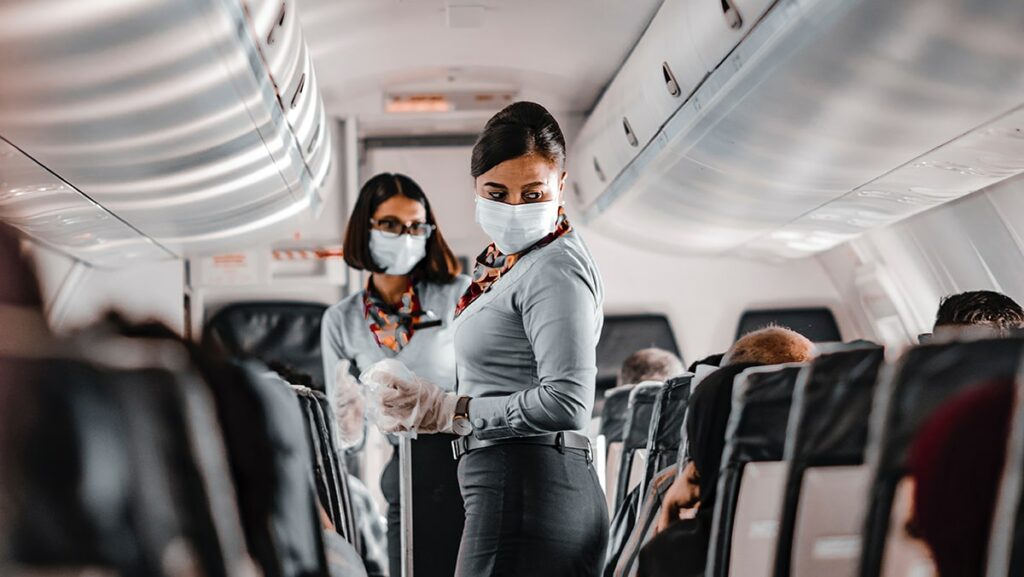 Since March, I've hunkered down and stayed home like everyone else. Summer was coming to an end, so my husband and I decided to take a road trip for a change of scenery – all while keeping a social distance.
We literally got away and did outdoorsy things with our dog and saw just a handful of people in a week's time. It was a great escape in August. But upon reflection it didn't near meet my need to get away or travel. You see, I love to travel. Whether alone or with a friend I'm usually the first to say, "I'll go!"
With the holiday season coming to a close, and feeling a bit cooped up, we decided to travel to Colorado for some holiday skiing before 2021. I decided to fly my way there while my husband drove. I was just so curious and interested in how 2020 has treated the airports, the minds of travelers that are still traveling, and what my own future looks like for travel! So I booked some flights and traveled solo to check out the travel landscape. Here are some takeaways.
I flew three flights and was in four airports in one day. Truthfully, masks are a given, but it felt pretty usual minus all the signage to keep a social distance.
I flew out of Quincy, Illinois, on Cape Air. An eight passenger plane that had six passengers and two pilots. There was no kiosk to self check-in – this had to be done at the counter. Everything else was like it used to be. This flight has never had any drink or snack service since the flight is so short. I landed in St. Louis.
St. Louis seemed bustling. Everyone had a mask on, signs everywhere, overhead reminders to keep a distance, wash your hands, etc. No chairs or waiting areas had any seating blocked off or reduced. I was on a 737 flight to Dallas with 33 rows, six seats across, and the flight was full. No drink or snack service at all, but you were allowed to drink or eat anything you brought with you – and this would be the only time you would be allowed to remove your mask. Restaurants and bars were open inside the St. Louis airport as well. The tall tables or bars did have chairs missing to reduce closeness.
Dallas/Fort Worth airport was beautiful, sunny, and 61 degrees when I arrived! It had the same vibe as St. Louis: people are traveling, people want to travel, people have to travel for work. My next flight to Colorado was a smaller plane, an American Eagle, which seats four across for about 30 rows and, minus a few vacancies, it was a pretty full flight. This flight did have the attendants handing out a sanitizing wipe packet upon entering the plane. Again, no snack or drink service provided.
I was to land in Aspen but was rerouted to Grand Junction, Colorado, because of a flapper issue on the wing, but all was well! The Grand Junction airport had restaurants and drinking available and was working much like the rest of the airports were throughout the day.
TIP: Keep in mind that the places you are traveling may have regulations set that you are unaware of. For instance, Pitkin County, Colorado, is asking all travelers that are boarding within the county to have a negative covid test result 72 hours before arrival, and they are asking for everyone to upload their test results on the County webpage to help with contact tracing. Each destination is different, so make sure to stay up-to-date on your destinations.
TIP: Keep in mind that you may find that the landscape for your getaway is different than where you live. For instance, where I am staying in Colorado, masks must be worn outside as well as inside, and this is not the case in Quincy, where I live. Also, restaurants are at a lower capacity, and with holiday ski season booming it is hard to get a reservation. So just think ahead. Maybe getting a suite with a kitchen would be better or making reservations well in advance of your trip will keep from frantically trying to find a dinner location.
TIP: Take note of what your employer expects of you upon returning from your travels. Some employers are asking for negative tests or a quarantine period before returning to work.
Travel can be done. There are measures in place to help those that feel they want to venture out again. I made a few friends on my flight from Dallas to Aspen. One of them said that she had "decision fatigue" for second-guessing herself so much this year. After canceling and rebooking a handful of trips for herself and her family, she finally just decided to book a trip to Aspen. She needed to get out and was able to take all necessary precautions, so she was very excited to see Aspen, ski, and finally get out of her town after almost nine months of staying home.