Spring travel is here! – March 2022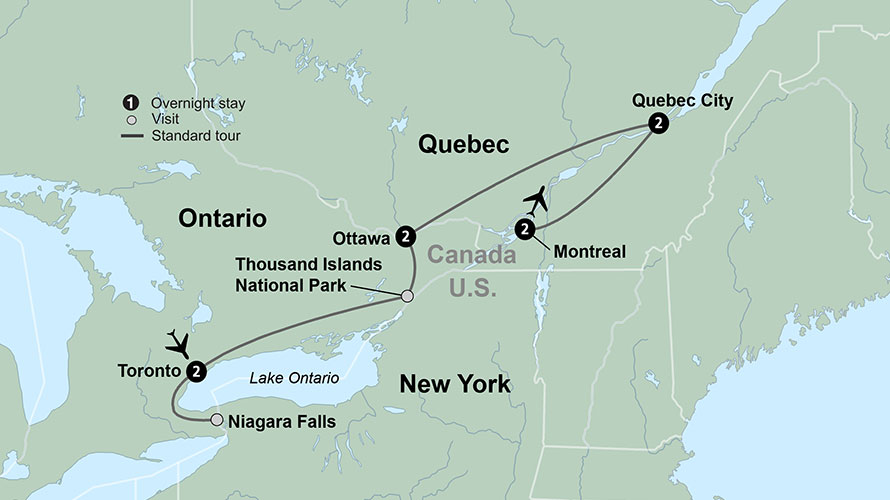 How are your travel plans going?
🇨🇦 The Best of Eastern Canada: Summer 2022 – SAVE $200 by booking by March 29
You can save $200 when you book our Eastern Canada trip by March 29! This nine day FULLY ESCORTED trip from July 29 to August 6, 2022 will include the highlights: Toronto, Niagara Falls, Niagara-on-the-Lake, Thousand Islands National Park, Ottawa, Quebec City, Choice on Tour, Montmorency Falls, Maple Sugar Shack, Montreal. Get all the details here!
Book by March 29 and save $200. Prices will increase after this date, so reserve your spot NOW!
 UPDATE:  Canada just announced that the borders are open to fully vaccinated travelers and you no longer have to take a covid test.
🌎 IT'S YOUR CHOICE
Join a local guide and stroll the streets of Old Quebec City on foot -OR- embark on a panoramic coach tour to experience the beauty and history of both Old and New Quebec.
🌎 MUST-SEE INCLUSIONS
Witness the incredible power of Mother Nature at breathtaking Niagara Falls.
Become acquainted with Ottawa as you explore the city.
🌎 CULINARY INCLUSIONS
Savor brunch at a local sugar shack nestled in the Quebec countryside.
Enjoy an evening out and sample the local cuisine at a lovely restaurant on Ile d'Orleans.
🌎 CULTURAL EXPERIENCES
Discover Niagara-on-the-Lake with quaint local shops and a charming atmosphere.
Admire some of the 1864 islands of the Thousand Islands National Park with a boat tour along St. Lawrence River.
⏱ Get your passport early
Plan ahead and hurry! It's taking around four and a half months to get passports back and around three months to get expedited passports. We recommend people to plan ahead and get them done now! Also, you need six months of validity on the back end of your passport when traveling internationally, so plan for that as well.
☀️ Book Now to Lock in Savings
With prices going up and inflation doing what it does, booking your 2022 trip (or trips) right now will save you LOTS of money! Only a deposit is due when booking with us. The full price of the trip isn't due until 45 days from departure but you lock in those lower prices with the deposit!
Call us at 217.223.8747 or contact here to start planning!
👀 Hiring Alert: We're looking for you!
Travel is back and we are busy! We need some help, so we're hiring a new travel specialist. Destination Travel is a female owned company based out of Quincy, IL, and St. Louis, MO. However, our travel specialists work from all over the globe as travel is something we all enjoy – whether working or playing!
Interested individuals can email Lori Shannon, owner, a resume and cover letter by April 15 to lori@1destinationtravel.com.
Position Information:
1️⃣ SERIOUS INQUIRES ONLY
2️⃣ Must have travel advisor experience
3️⃣ Full-time position
4️⃣ Must be capable of working from home
5️⃣ Computer skills needed
6️⃣ Must have a valid passport
7️⃣ Commission based pay
8️⃣ Must be willing to travel internationally
🎉 2023 air is out for charter flights!
If you fly from St. Louis, Chicago, Cleveland, Denver , Kansas City, or Philadelphia, book your flights now and save big. Call us now at 217.223.8747.
🧳 Travel Is Open — Live Your Life
We have so many clients calling to ask when they can or should travel again — let us just say: Travel is Open! No matter what you have in mind, contact us and let's get planning.