A Long Weekend in California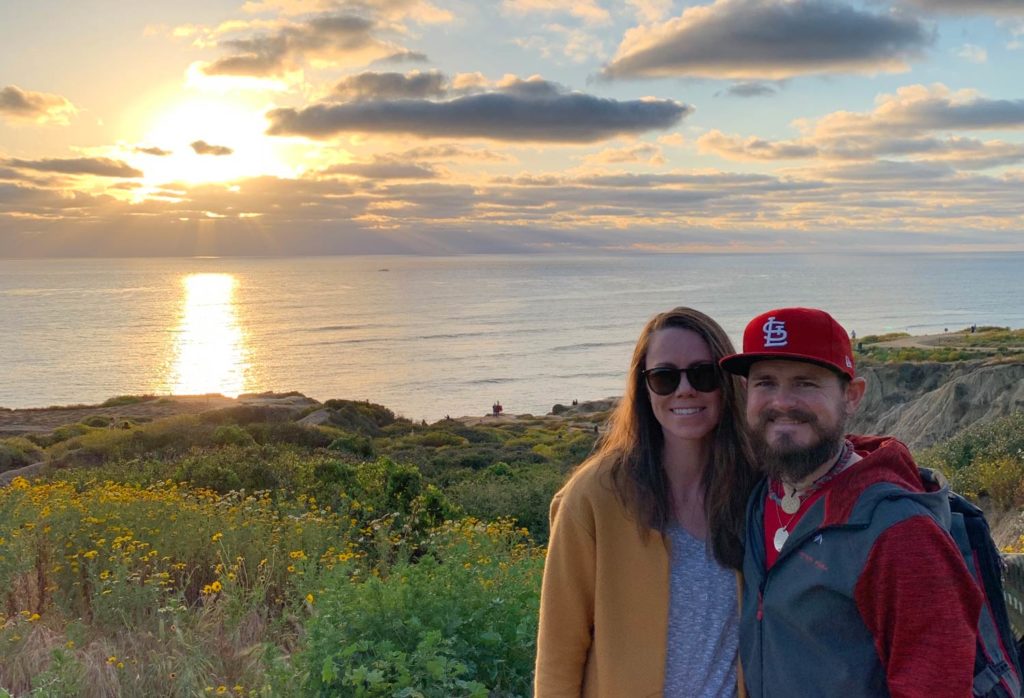 I'm always trying to find long weekends to places where I haven't explored. I hadn't been to San Diego before, so I thought I'd give it a try and I'm so glad I did!
Actually, I first took this trip with a girlfriend in 2018, but loved it trip so much that I took my husband back in April. I found some direct flights, a quieter area to stay, and some fun activities to do while there. It's the perfect place to get away to for a few days (or even longer).
The final destination of choice was La Jolla, California. The cove area of La Jolla is very quiet at night, family friendly, and has many shops, restaurants, and parks.
Flying into San Diego is super easy leaving from St. Louis – less than a four-hour flight. I highly suggest getting a rental car. La Jolla Cove is about 13 miles from the airport. It's an easy drive, but well worth getting a car to get a little bit out of the city.
I have stayed in so many cities so I was wanting to get both a big city and small town feels. La Jolla definitely has this feeling.
In La Jolla there's this cute little boutique hotel called Scripps Inn. I had never heard of this place before, but when Destination Travel sent me options of hotels in the area, this one stood out to me for many reasons.
It's as close to the water as you can get. Literally just a street separating the Inn from the water. It's a quiet area that has dog walkers, strollers, and families walking the sidewalks all day long. Scripps Inn is also listed as Conde Nast's top picks for the San Diego area, and I'm always looking up destinations and their recommendations online. The Inn provides breakfast every morning, and you can enjoy breakfast in your room or on the deck overlooking the water. The food provided is usually juice, coffee, oatmeal, muffins, pastries, and cereal.
Things to do in La Jolla:
Walking the beaches in La Jolla is fun enough and it's right out your hotel door! Their beaches are covered in colorful flowers, smooth rocks, sand, and sea lions! There's a sea lion observation area just a short walk from the Scripps Inn.
The town of La Jolla is small enough to walk around all day! Good food, ice cream, art galleries, and lots of parks. We stumbled upon a great lunch/dinner rooftop restaurant in La Jolla called George's on the Cove – fantastic! I went to this spot last year and again in April of this year when I went back it was so good. The views are amazing, the food IS TOP NOTCH and only a short walk from the Inn. I also recommend Brockton Villa for breakfast/brunch – the mimosas flights are delicious!
Things to do in San Diego:
We attended a baseball game at Petco Park, and it's one of the nicer ballparks I've been to. The area outside the stadium is inviting and very spacious. We didn't drive to the stadium because parking is an issue, so I would suggest taking a cab.
If you're up for some outdoor time, Torrey Pines State Reserve is about eight miles from the cove. There is lots of parking and many different hike options. There are short hikes or longer hikes. The beaches on the reserve are beautiful. We took a five mile hike up the hills. It doesn't cost anything to go into the reserve. If you park outside the park you can find parking along the street for free. Pack a backpack with water, snacks, a camera, a hat, and sunblock for a comfortable hike. The hike will take you up the hill and back down to the beach, so taking your shoes off for the last part of the hike feels the best!
The historic Hotel del Coronado is a landmark you have to see! Coronado Island is about 18 miles from the Cove. Seeing the HUGE, historic hotel was just the coolest. I suggest going inside and seeing the hotel. So much of the original wood and elevators make the hotel so nostalgic and you feel like you've gone back in time. I enjoyed a drink at the bar while people watching, and then I walked the beach! The hotel is the second largest wooden structure in the United States!
And the best way to end the last night, in my opinion (and I've done it twice) is to go Sunset Cliffs (in SD) before sunset. Park along the street, walk to the cliffs and find a spot to sit to see the sunset over the ocean. This view is in my top ten things I've seen in my life. Truly amazing. The cliffs are an open area that's free of charge. I would suggest taking a snack, a blanket, and wear tennis shoes so you can have fun walking along the cliffs and the rocky terrain.
I enjoy my time in these areas and booking the trip is the hardest part! All of the places I went and saw don't have entrance fees, and there's so much more to see than what I listed! San Diego as a zoo, USS Midway Museum, aquarium, pacific beach, sea world, and so much more!
To plan your trip to California or anywhere else, contact Destination Travel! You can reach us directly at 217-223-8747 or ext 108 or 877.275.7799.