Napa for the Amateur Wine Enthusiast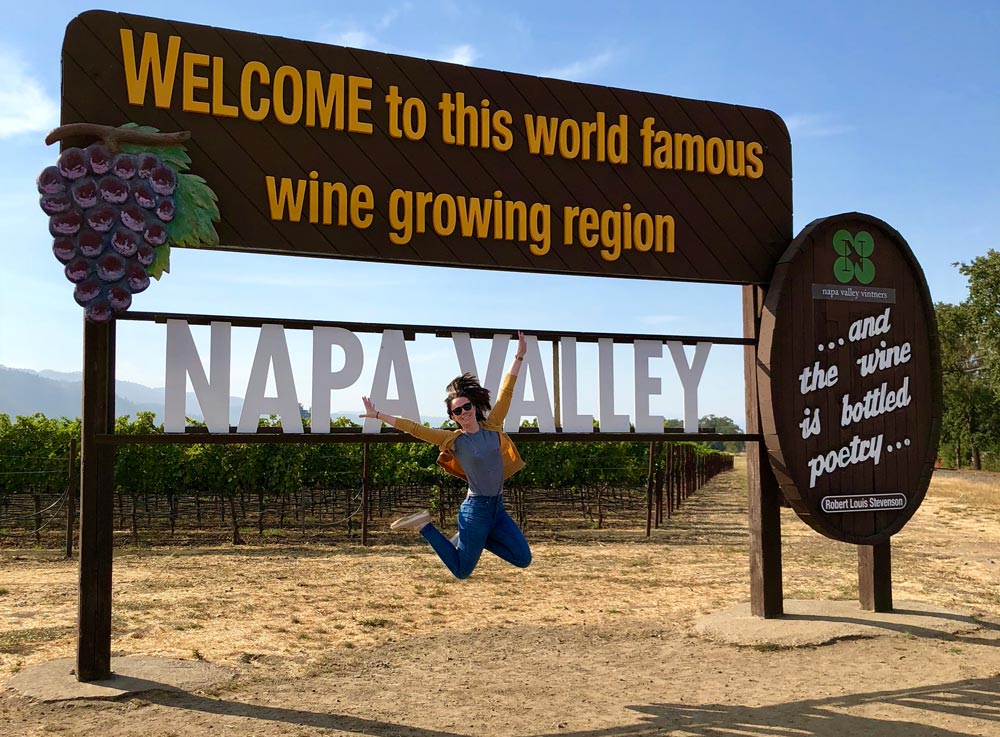 I went to Napa in 2014 to sample wine, enjoy girl time, and kick back.  My husband, Zeke, and I then traveled back to Napa in September of last year to do a couples trip.  I remembered right away why I loved this place so much!
Napa is just a little over two hours from the San Francisco airport. We rented a car, and it was worth it.  We ended up driving to many wineries and having our own car was nice to get to see the area. I have been to California many times before, but this past fall I got to see a drier Napa.  Two years ago there were lots of fires in the area, and last summer was a pretty dry summer for Southern California.  So when we went to visit on Labor Day weekend we saw a very dry, brown kind of countryside on the way to Napa. We did find out, though, that this meant all good things for growing excellent grapes for winemaking!
We stayed at the River Terrace Inn in Napa.  It is a quaint little Inn right in the middle of the city. The Inn is literally just three doors down is the wine train and right across the street from the only winery within the city limits of Napa – St. Clair Brown Winery. The Inn is up-to-date and modern.  It sits on the Napa River.  There is a gorgeous outdoor sitting area and a bike/walking path right along the water behind the Inn.  If you're staying, I highly suggest you book a River View Room to get the best view of the grounds and the River.  Many rooms have balconies, so that would be lovely as well if you're going when the weather is favorable.
My husband's favorite part of the trip was the Napa Valley Wine Train!  This thing makes you feel like you've been taken back in time!  It's about a three-hour commitment.  We chose the dinner train, but there are lunch options and special event options as well.  You board the train and then get a catered three course dinner along with wine while taking a beautiful sunset train ride from Napa to St. Helena and back.  The service was great and the food was FANTASTIC.  You can actually walk the length of the train in between your courses.  You can see the chefs cooking your food on the food cart, enjoy an espresso and dessert on one cart, and get more wine on any cart!  The whole experience is very relaxing and fun.  We booked wine train tickets ahead of time to guarantee our time.  The train can be fully booked depending on the time of year.
One of my favorite parts of Napa are the day wine trips you can book.  Destination Travel has booked two-day wine excursions for me and both times with Platypus Tours.  They pick you up from your hotel and escort you to 3-4 wineries throughout the day.  The escort van holds about 12 people, so you'll get to meet people from all over the world!  The guide will provide water and snacks between each winery and will even prepare you lunch at one of the wineries along the way.  When you're finished with the last winery for the day you get taken back to your hotel.  The whole day you get to be free thinking, not worrying about directions, how many glasses you've had, or what time it is – that's all left up to the guide!  We loved this experience SO much that we bought wine from each stop and ended up bringing 12 bottles home with us!
We also drove around and went to a few other wineries on our own.  In Napa you can find many tasting rooms or vineyards that are nearby and some further away.  We enjoyed tasting while walking around the town one day.  Other wineries don't have tasting rooms in the city so driving to their vineyard is the best way to sample their wine. Every winery/vineyard/tasting room has a different way of presenting their wine, but the best way is to just sample, sample, sample!  I guarantee you'll find something you love!
When we were on the Platypus Tour, they offered for us to buy a box with foam made for shipping wine bottles.  It cost around $5.  We were able to put all of the wine we had purchased on our trip into this box and check it as a bag at the airport.  Since we flew direct through Southwest Airlines we didn't have to pay for the box!  We were able to put the wine box on the plane and get it home for free!  This is something we hadn't done before and were skeptical about, but it worked!  We will definitely do this again – as long as we can keep our wine purchases to 12 bottles!
All in all, this trip is very fun, relaxing, and very easy to fully plan ahead of time. We had our flights, hotel, rental car, wine train tickets, and day wine trip all booked at the time of booking with Destination Travel.  The only thing we added to the trip on our own was our day trip to a few wineries, which was an excuse to drive around the area and see different vineyards.
We also walked around the town of Napa.  It's a very cute town and has lots of food and music. I highly recommend going to St. Clair Brown Winery – the winery that's inside the city limits.  To this day it's one of my favorites!  I've been a wine club member here since 2014 and every month I look forward to getting my shipment! The grounds are gorgeous, the owners are polite, and the wine is GREAT! The cool thing is that EVERY single plant on their grounds is edible!  One of the owners actually plucked a flower off a vine and told me to eat it and then sip my wine…it was fantastic! There are lemons, limes, tomatoes, carrots, and so many other plants surrounding the outdoor seating area and all are there for you to snack on!
I can't wait to go back to Napa and do it all over again. Every time I go to Napa I want to stay longer and come back to go to more wineries and restaurants.  I have a feeling anyone that likes wine will end up loving it after a trip like this!
To plan your trip to Napa or anywhere else, contact Destination Travel! You can reach us directly at 217-223-8747 or ext 108 or 877.275.7799.