⚾️ Hey Batter, Batter. Swing! – Book Your 2020 Spring Training Trip to Florida!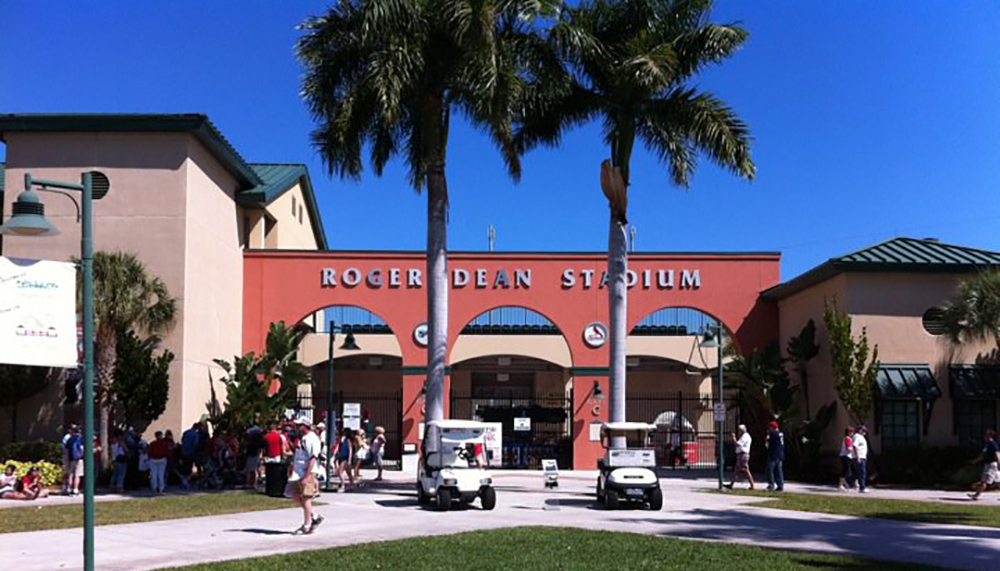 Destination Travel has reserved tickets to ALL Cardinals home games at Roger Dean Stadium, so let us know which games you'd like to see and we'll try our hardest to get you in the good seats for all of them!
We are taking reservations for all-inclusive tickets (minus alcohol) in the great seats! These aren't benches or hard seats, but cooler, more comfortable mesh-type seating located behind the bullpen. We can book you at a hotel in Juno Beach so you are just feet from the ocean, and we can reserve tickets to any home games at Roger Dean Stadium.
We can book your round trip flights, rental car, hotel stay, and game tickets in one nice bundle! Call 217.223.8747 to book your Florida getaway for this March.
The stadium seating is great! The newer section of the stadium features more comfortable seating and tables that you can put your food and beverages on while watching the game, which is great because this section of seating is also all-inclusive (minus alcohol). You'll need somewhere to set down your soda, hot dog, nachos, and peanuts while basking in the Florida sun in March!
Pro tip for our new spring training clients – go to practice in the back fields before the game! This is absolutely free to do! You can walk the MANY back fields and see your favorite players and coaches working on their game. There are a few bleachers to sit and watch, or you can bring your own chair. You're sure to see every player and maybe even get an autograph! Seeing the players up close and interacting with one another is the coolest part for lots of our clients!  And this IS THE PERFECT SETTING for children too!  Bring your glove, your hat, and a marker because the players will literally be feet from you.
Get ahold of us soon because our seats sell quickly! And if you have the urge to see other spring training stadiums while in Jupiter, there are many within a short drive for any baseball enthusiast. You can call us directly to book at 217.223.8747 or send us a message.